Agreement between the Sapummijiit Crime Victims Assistance Centre and the KRPF
October 30, 2017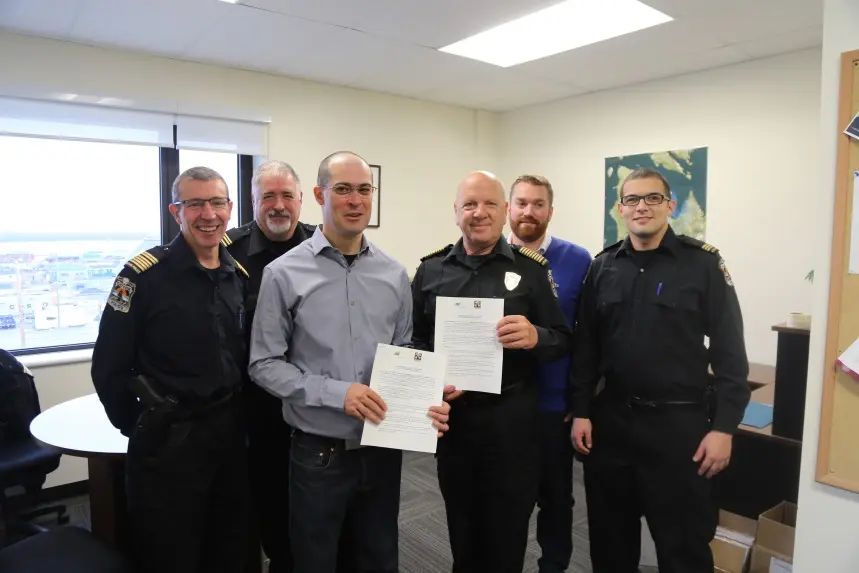 A new agreement between the Sapummijiit Crime Victims Assistance Centre and the KRPF was signed on October 25 to enable better support from the start of the judicial process.
​KRPF Chief Michel Martin and the Director of the Legal, Socio-Judicial and Municipal Management Department of the Kativik Regional Government (KRG), Philémon Boileau, have signed the agreement on police referral in the KRG building of Kuujjuaq.
From now on, following the declaration of a victim, the police officer will ask if he or she wishes to receive the support and the services of Sapummijiit. If the victim refuses, the police officer will simply give the person a business card for further information if necessary. If the victim accepts to receive help from the Centre, the KRPF will share the contact information with a Sapummijiit agent, which will allow support to be offered to the victim immediately.
"The police referral agreement will allow crime victims to be taken charge of at the beginning of the judicial process and to rapidly be in touch with one of our agents", explained Bruno Hamel, Sapummijiit manager. "Before the signing of the agreement, the Sapummijiit services were coming at the end of the judicial process. With this new way of operating, we wish to support the victims from A to Z through the judicial process."
Bruno Hamel presents the agreement in a KRG office
The victim will now be informed of the steps to come regarding the suspect, the court dates and the release conditions of the suspect, as well as having a continuous support. This partnership will allow a better service to the crime victims in the 14 communities of Nunavik.
For more information on the Sapummijiit services: http://www.krpf.ca/en/assistance/crime-victims-assistance