New Practices for Situations involving Persons who are Barricaded or in a State of Crisis
November 11, 2019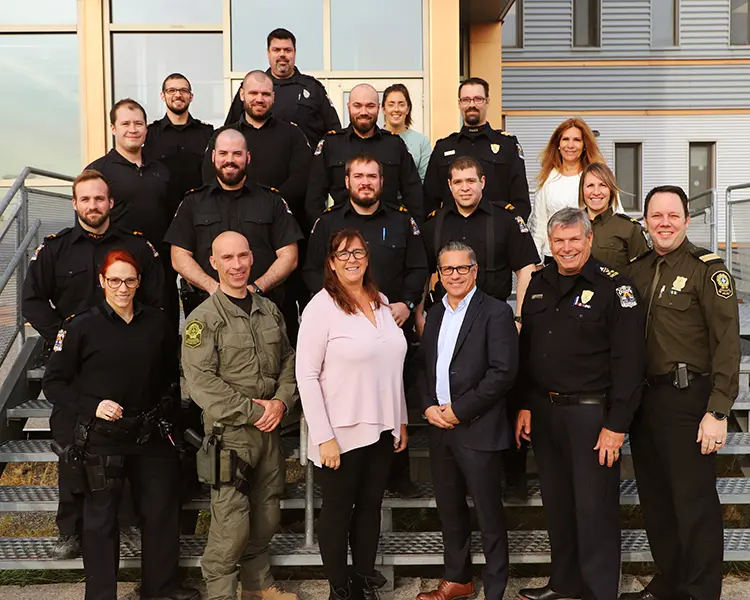 Police officers must sometimes respond to situations involving firearms, barricaded persons or hostages.
To better prepare its personnel for such situations, the Kativik Regional Police Force (KRPF) organized special training from October 8 to 10. Three trainers from the Sûreté du Québec (provincial police, SQ) travelled to Kuujjuaq to deliver introductory Filet II Operations training to 12 senior KRPF members.​
Captain Christian Michaud of the SQ investigation service for crime against persons, forensic psychologist Michel St-Yves and Sergeant Luc Drapeau of the SQ emergency response unit were responsible for delivering the best-practices training on security perimeters, how to enter into contact with perpetrators, incident management and the transfer of responsibilities from one police force to another.
"This training is intended to resolve situations safely for the general public, for the perpetrator himself and for police. It emphasizes negotiation as a means for achieving a peaceful end to barricade situations," noted Captain Michaud. "It will help KRPF officers to enhance their onsite management of crisis situations," he added.​
"Our officers can be responsible for directing high-risk response operations for several hours. It was therefore important to organize this specialized training to offer them appropriate support. The communities served by the KRPF will also benefit from this training," mentioned KRPF Chief Jean-Pierre Larose.
The SQ office of Aboriginal affairs also followed the training closely. "We had some interesting discussions with the trainers and KRPF senior officers to improve understanding of the role of police in these situations. We hope to find solutions to help us better adapt to the reality of northern communities," stated Chief Inspector Ginette Séguin who attended part of the training.
"Over the years, we have improved Filet II operational tactics so that officers are better prepared during validation periods and while our resources are being deployed. We have implemented more effective communications and deployed resources from Montreal to negotiate with perpetrators and conduct parts of our investigations with significant persons for these individuals," pointed out Captain Michaud.​
"Based on the feedback of our officers, this training will be useful to them in their work," commented KRPF Chief Larose.