Nunavik Firefighter Training Centre Officially Opened
June 8, 2018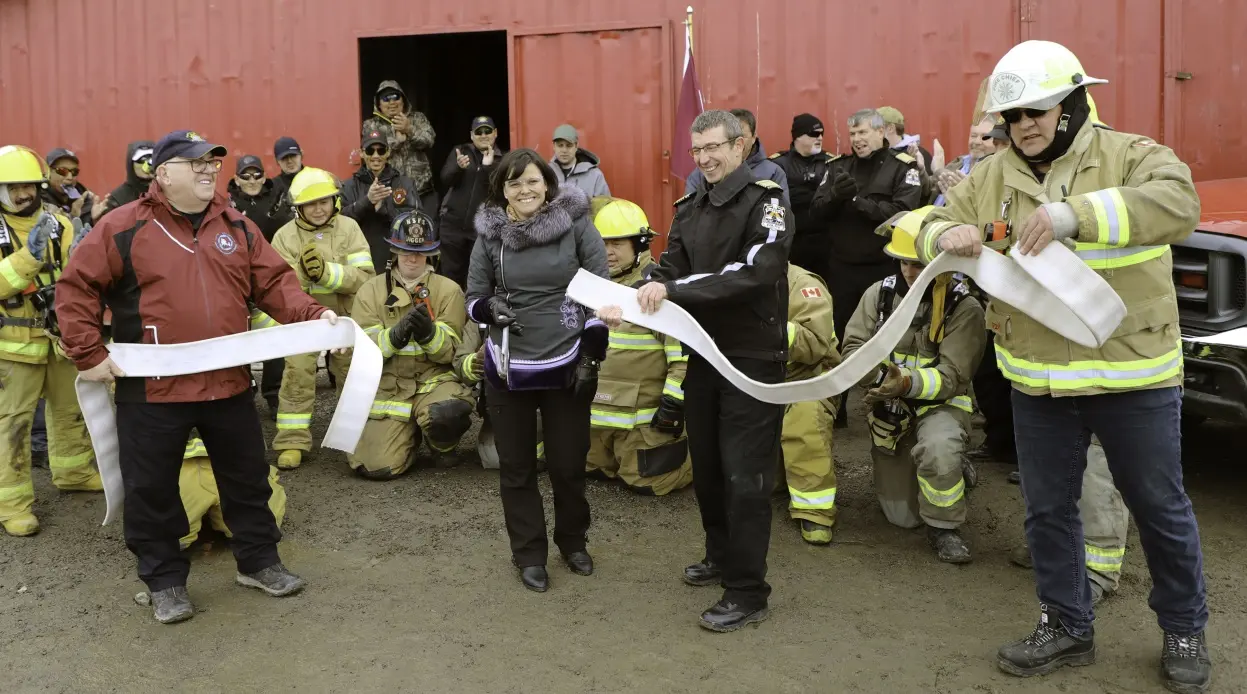 At a ceremony organized on June 5, the Chairperson of the Kativik Regional Government (KRG), Jennifer Munick, cut a fire hose to mark the official opening of the Training Centre.
​The Nunavik Firefighter Training Centre in Kuujjuaq was inaugurated during the annual meeting of regional fire chiefs. The training facility will offer firefighting courses taught by Inuit instructors in Inuktitut.
With the new Training Centre, Nunavimmiut will now be able to receive certification from the École nationale des pompiers du Québec (firefighter training, EPNQ) in Nunavik. In addition to Fire Fighter 1 training, hazardous materials operation training and non-urban officer training will be delivered.
Michel Morin, who has spearheaded the Training Centre project for the KRG, gives a tour of the facility after the ribbon-cutting ceremony.
The Civil Security Section of the KRG Public Security Department has worked on this project for more than three years. The many partners which offered contributions include the Kativik Municipal Housing Bureau, the Northern Village of Kuujjuaq, various KRG departments and the Kuujjuaq Fire Department.
The Training Centre and its equipment are powered by solar panels and portable generators.
The Training Centre comprises three main buildings.
From left to right: Michel Morin (KRG firefighter training coordinator), Jerry Jones (firefighter), Jennifer Munick (KRG Chairperson), Richard Jones (Kuujjuaq fire chief), Benoit Plante (Deputy Chief of the Kativik Regional Police Force – Administration, Civil Security and Support), and Michael Gordon (KRG Director General).