Permanent Memorial for Indigenous Police Forces Unveiled
May 28, 2018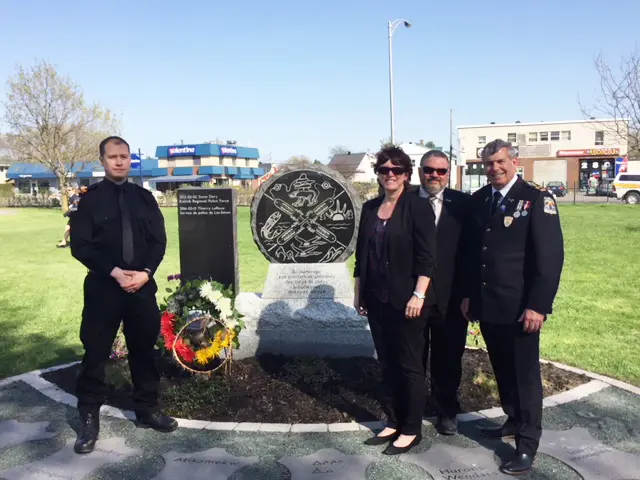 As part of Police Officer Recognition Day on May 14, a permanent memorial honouring Indigenous police forces was unveiled at Nicolet.
​During a ceremony held in the morning, the Minister of Municipal Affairs and Land Occupancy, Minister of Public Security and Minister responsible for the Montreal Region, Martin Coiteux, presented medals of bravery for outstanding acts of courage.
An honour roll of Indigenous police force officers who have died in the line of duty was also recognized. Two names are engraved on the permanent memorial: the name of Steve Déry, a KRPF officer who died on March 2, 2013, and that of Thierry LeRoux, a police officer with the Lac-Simon police force who died on February 13, 2016.
The cenotaph is the fourth to be erected at the École nationale de police du Québec (police academy). The others are dedicated to the Royal Canadian Mounted Police, the Sûreté du Québec (provincial police) and municipal police forces. The unveiling of the permanent memorial for Indigenouse police forces was initially planned a year ago, but had to be postponed due to high spring runoff conditions.
See also:
The KRPF Commemorates Constable Steve Déry