Puvirnituq: Two Men Found Four Days into Search and Rescue
May 1, 2020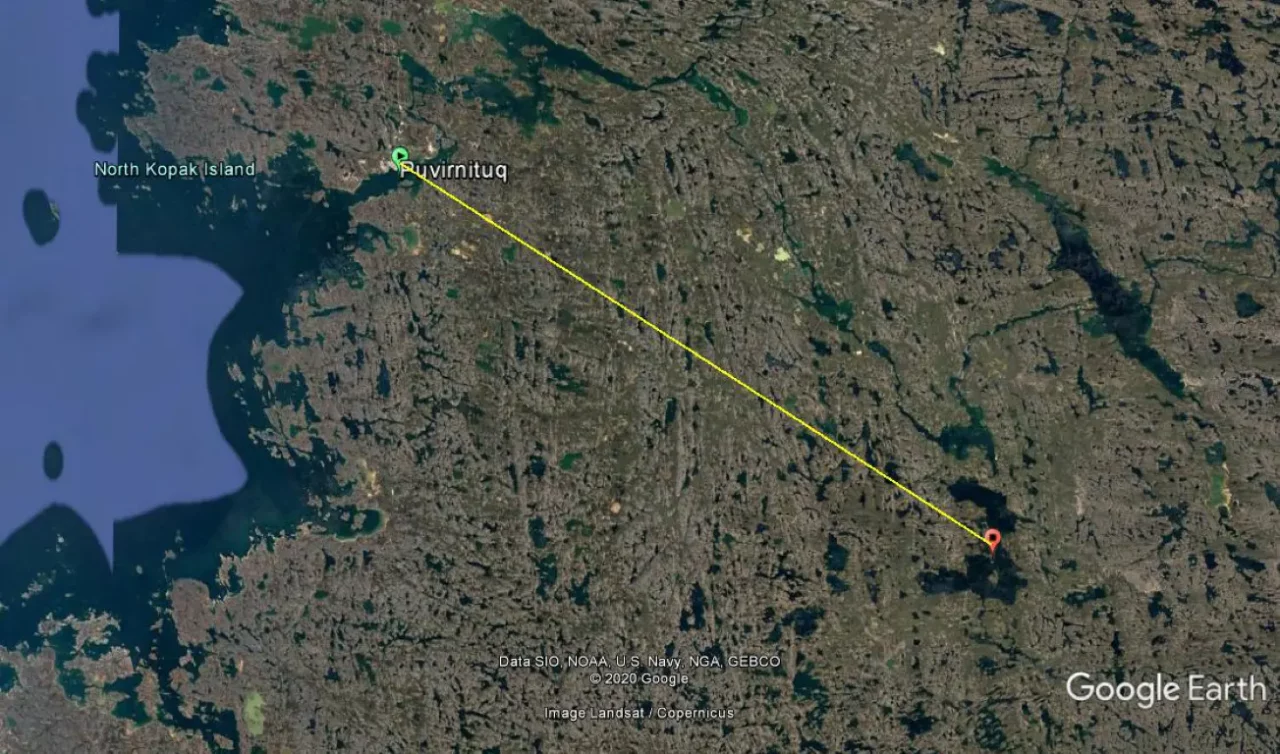 Two anglers who got lost on their way home to Puvirnituq were found after a four-day search and rescue operation.
On Friday, April 24, two men left Puvirnituq to go fishing at Tunusualuk Lake, about 50 kilometres away. They were due back the same evening but never returned.
Both anglers were reported missing early Saturday morning. A Level 1 search and rescue operation was immediately initiated. The municipality deployed several volunteers by snowmobile to carry out a ground search for the two men. Meanwhile, the investigation revealed that the men didn't have enough fuel for the trip. By the end of the day, the search was unsuccessful and had to be temporarily stopped due to bad weather conditions.
The next morning, 14 volunteers left Puvirnituq by snowmobile to continue their search. At noon, the operation was upgraded to Level 2 since the initial ground search was unsuccessful, and the weather conditions were still unfavourable. The KRPF authorized an aircraft charter to conduct an aerial search of the area. The KRPF also requested assistance from the Canadian Rangers to expand the ground search. The operation was again stopped in the evening because of the bad weather conditions.
On Monday, the Rangers and volunteers continued the ground search, and the KRPF authorized two additional charter flights for the morning and afternoon. During the evening, a group who were fishing nearby found one of the men. He was outside the designated search area. He explained that on their way back, they realized that they did not have the GPS coordinates of the village. They got lost, drove until the snowmobile ran out of gas, and started walking. He provided GPS coordinates of his companion's approximate location. The ground search continued throughout the night.
On Tuesday morning, a fourth plane took off from Puvirnituq while Rangers and other volunteers continued the ground search. At noon, the Rangers found the snowmobile used by the men. Shortly after that, they rescued the second man who was inside the designated search area.
"I want to start by thanking the volunteers and the Canadian Rangers for their time and effort," said Captain Mathieu Savage. "Although this story has a happy ending, we have all seen or heard of tragedies. I urge residents who participate in outdoor activities to bring the necessary survival and communication equipment, even if it's just a day trip. As they say, it's better to be safe than sorry."
The KRPF and the KRG Civil Security Section would like to remind Nunavimmiut who are planning on-the-land excursions to:
Share with a family member or friend the planned itinerary and return time;
Carry a communications device;
Check the weather forecast;
Carry essential survival equipment, such as:
A tent and sleeping bags;
Food for at least 48 hours;
Extra oil and gas.
See also: Enjoy the land safely!​